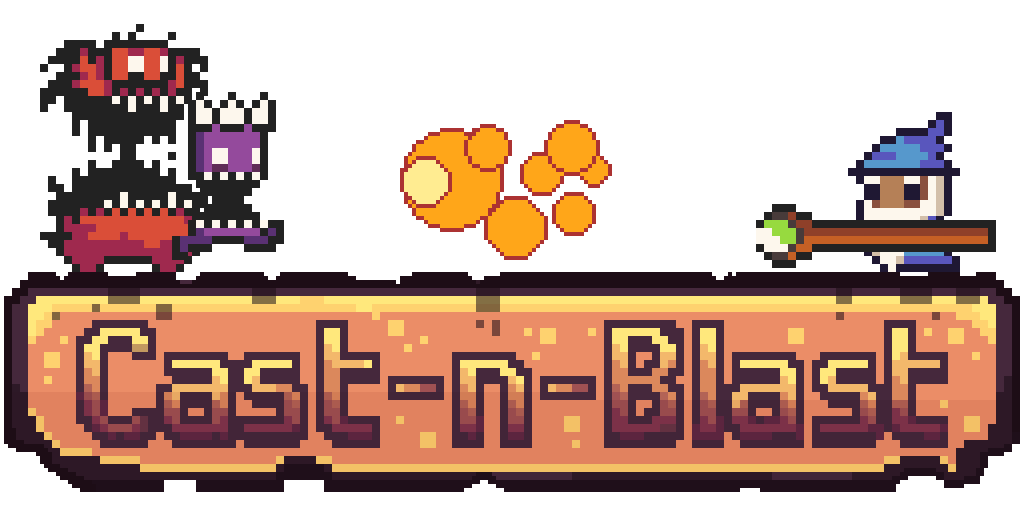 Cast-n-Blast
A downloadable game for Windows
DO YOU SPEAK MAGIC?!
If yes, then you are in the right place. In this arena, you can show your skills of annihilating various enemies! The more rounds you survive, the better mage you are.

You have four spells to do your job:
Fireball. A good old classic, it has a tremendous high cast speed. However, it deals small damage.
Icicles. You cast a cone of icicles, which are incredibly deadly on short distances, but they tend to melt pretty quickly.
Meteor. Big and exploding piece of rock, it's great to blow up a crowd of demons, but it moves slow.
Arcane spear. The choice of the most skilful mages. It penetrates all the enemies but requires charging and good aim, but on a maximum charge, it destroys everything.
However, there is the icing on the cake - ULTIMATE!
Kill your enemies, pick up ultimate mana, and activate this ability to annihilate the world your enemies!
GAME CONTROLS
| | | |
| --- | --- | --- |
| Action | Keyboard | Xbox (PS4) game pad |
| Move | W, A, S, D | Left Stick |
| Dash | Space | LT (L2) |
| Aim | Mouse | Right Stick |
| Shoot | LMB | RT (R2) |
| Switch Weapons | 1, 2, 3, 4 or Scroll | RB (R1), LB (L1) |
| Activate ultimate | Q | Press Left Stick |
| Pause | Escape | Start |
MENU CONTROLS
| | | |
| --- | --- | --- |
| Keyboard | Game pad | Action |
| W, A, S, D | D-pad | Select menu item |
| Enter | A (X) | Accept |
ABOUT THE GAME
This game I've developed for 1.5 months with Game Maker 2. I had started it on GGJ 2020, but something went wrong. I've made 4 overhauls of main combat systems to make them better. Hope, you'll enjoy Cast-n-Blast.
CREDITS
Code and design by me.
Art by 0x72, you can download it here.
Logo by @homyashas
Contains music ©2019 Joshua McLean (mrjoshuamclean.com)
Licensed under Creative Commons Attribution 4.0 International
Special thanks for everyone, who helped me during this endeavour by play testing and giving valuable feedback.
Download
Download
Cast-n-Blast (Windows).zip
32 MB
Comments
Log in with itch.io to leave a comment.
This was really fun! I enjoyed the different spells and fast paced action and character progression! It was a little difficult to find all the monsters before time ran out (for me)
Any chance for controller support? I tried a Xb1 controller but it doesn't really work :/
It seems, that Game Maker doesn't work well with Xb1 controller. Unfortunately, I have only Xb360 and PS4 controllers and they work well. I'm sorry that Xb1 controller doesn't work.:(
Additionally, did you play in wireless mode?

Aww :( No, I used a wired one. Its weird because I can move around with the left thumbstick but the crosshair is wonky for the right one
According to my friends experience, Xb1 works pretty bad with GMS2. Try to download the last version of the game. I changed key bindings a little bit.
Really fun game! What engine did you use?
Enjoyed it! The particles and music were great.
Also I was wondering which sprites you used for the persistent particles.

That's all and have a good day :)
Hey there, thank you for kind words. If you speak about splatter effect, you can read about it here.
Thanks! I'm so hyped for the next game you are going to upload :D
Very fun and dynamic game! Love it!
Everything about this game is great! Had a lot of fun playing this, the gameplay is really nice.